Hon. Justice Warren E. Jones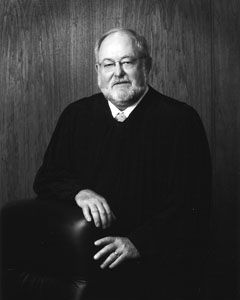 Justice Warren E. Jones is an Idaho native who was born in Montpelier, Idaho in 1943. He attended grade school in Ogden, Utah, spending summers with his grandparents on a farm in Burley, Idaho. He attended high school at Butte County High School in Arco, Idaho, graduating as valedictorian in 1961.
He then attended the College of Idaho in Caldwell, Idaho, where he received his B.A. degree, Magnum Cum Laude, in political science in 1965. He then attended the University of Chicago Law School where he received his J.D. degree in 1968. After his second year of law school, he received a Ford Foundation Fellowship for advanced study in criminal law and procedure at Northwestern University School of Law in Chicago.
Following graduation from the University of Chicago in 1968, he returned to Idaho to work as a law clerk in 1968-1970 for the Honorable Joseph J. McFadden, Chief Justice of the Idaho Supreme Court. Justice Jones joined the law firm of Eberle, Berlin, Kading, Turnbow, McKlveen & Jones in 1970 where he later became the firm's senior litigator, specializing in litigation of all types, including negligence, products liability, professional malpractice and commercial litigation. During 37 years with the Eberle Berlin firm, Justice Jones tried over 122 jury cases to a verdict in 38 of the State's 44 counties.
In July, 2007, he was appointed to be the 55th Justice of the Idaho Supreme Court by Governor C.L. "Butch" Otter.