Hon. Judge John M. Melanson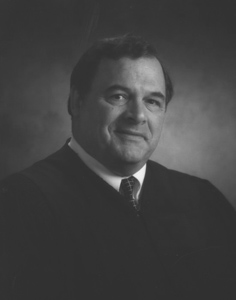 Judge John M. Melanson is a 1966 graduate of Blackfoot High School, a 1978 graduate of Idaho State University (B.B.A.), and a 1981 graduate of the University of Idaho College of Law (J.D.).
He is a U.S. Army veteran having served in Vietnam with the 9th Infantry Division as a hovercraft operator. He practiced law in Buhl, Idaho, from 1981 through 1994. He received the Idaho State Bar Pro Bono Publico Award in 1994.
In 1995, he was appointed Magistrate Judge for Lincoln County, a position in which he served until December 2000 when Governor Kempthorne appointed him District Judge for the Fifth Judicial District with chambers in Minidoka County. He was elected to that position in 2002 and reelected 2006.
The Idaho Supreme Court appointed him presiding Judge of the Snake River Basin Adjudication in 2003. In 2009, he was appointed to the Idaho Court of Appeals by Governor Otter.
He resides in Boise with his wife Pamela.